Tell us what you think of the Complete Streets Gertrude Ford Pop-Up Project!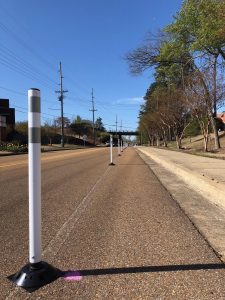 What is the Gertrude Ford Pop-Up project?
With the support of the UM Green Fund, members of the Active Transportation Advisory Committee have installed a temporary demonstration project on Gertrude Ford Boulevard to make it safer for cyclists, motorists, and pedestrians. This pop-up project aims enhance the road using nonpermanent modifications such as bike line buffers and crosswalk signage. 
What is a complete street?
Complete Streets are streets for everyone. They are designed to enable safe access for all users, including pedestrians, cyclists, motorists and transit riders of all ages and abilities. Complete Streets make it easy to cross the street, walk to shops, and bicycle to work, (Source: National Complete Streets Coalition).  For more information on complete streets, click here.
Why is this project being implemented?
Recent speed data collected within this stretch of Gertrude Ford show that the 85th percentile speed of motorists along this stretch is 43 mph, which is well over the posted speed limit of 30 mph. This is a problem because this area is used by pedestrians from the adjacent Ford parking lot, cyclists coming from the Depot Trail, and others on their commute to campus.
The purpose of this project is to demonstrate and evaluate enhanced road treatments while increasing the safety, comfort, and efficiency of a more inclusive range of transportation options. Ultimately, projects like this pop-up help university and city officials make informed decisions by gathering the input of the university and Oxford community.
Give us your feedback!
Your feedback is critical in determining the success of this project and will be used to make Gertrude Ford a safer road for all users. To give your feedback, please fill out the form below.