Green Grove Program – Statistics
This graph illustrates the amount of waste generated and the amount of recyclables collected in the past football seasons. Diversion rates include the percentage of waste materials diverted from traditional disposal such as landfilling or incineration to be recycled, composted, or re-used.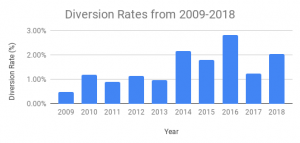 The Office of Sustainability, Oxford Recycling, Landscape Services, Associated Student Body, and Athletic Department are determined to improve our diversion rate for the 2019 football season. We will continue to increase our diversion rate each year! With the implementation of mesh bags, Green Grove Team Leaders, and more recycling bins, we believe this is an attainable goal.