How You Can Help

Students, faculty and staff can make a big difference by making small changes in their daily lives. Below, we've listed helpful information for the UM community. Scroll down, or click a topic for more information.
Waste Reduction
Additional Resources
Co-curricular Experiences for Students
Apply Signage to Recycling Bins
Waste Reduction
While recycling is very important, the most helpful and proactive thing students, staff, or anyone can do is to reduce the amount of waste he or she produces overall. Waste reduction simply means creating less waste to begin with. Here are some tips for how to reduce the amount of waste you create :
Reusable items– Thankfully, there are countless numbers of really nice reusable items on the market including coffee cups, water bottles, straws, cutlery, grocery bags and more. These come in lots of great shapes, sizes, and styles. Pick something you love, and reuse it! You can refill your water bottle at any of the Hydration Stations around campus. Also, bring reusable coffee cups, straws, and cutlery to campus dining locations.
Clothing-The clothing industry creates tremendous amounts of waste from dyes, textiles, and massive water usage. Do your part by seeking to buy sustainably sourced or gently used clothing. Oxford has the Salvation Army and Goodwill stores. Also, many online resale stores exist including Facebook Marketplace, Poshmark, Thread UP, and more. The Good Trade seeks to provide customers with sustainable clothing as well. You could also have a clothing swap with a few friends, where each friend brings clothes that they no longer fit or wear. Everyone picks what they want, and whatever is left can be donated.
Mindful shopping-When at the grocery or any store, try and only get the essentials. We often buy things we may not need or use, and end up with a lot of waste and excess. So consider which things are needed and which you can go without when shopping. It will help you declutter your life and save money as well as reduce waste!
Utility use-Simple things like turning off the lights, taking shorter showers, and unplugging unused appliances can help use less energy.
Transportation-There are lots of options for sustainable transportation on campus and in Oxford. Take a bus or carpool to and from class, events, or games. Ride a bike; there are bike racks all around campus and bike lanes in many parts of town. You can also rent bikes from some locations. Or, you can always take a nice walk when you're able.
Additional Resources
UM students and staff can support recycling by volunteering to help both campus and city sustainability programs, involving classes or registered student organizations in sustainability-related projects, and ensuring that office spaces have recycling receptacles. Encouraging oneself and others to continually practice and seek more information about recycling is also important. Learn more below.
Volunteer Opportunities
Students
UM students are welcome to volunteer at any of the office's volunteer events. Students are encouraged to include friends and peers. Ongoing volunteer events are Green Grove Gameday Recycling Program (fall semester) and working with the UM Compost Program (fall and spring semesters). Students may also be interested in volunteering at the UM Food Bank or assisting with the UM Garden.

Off campus, there are regular opportunities through Keep Oxford Lafayette County Beautiful. Additional sustainability related volunteer opportunities include helping the Oxford Community Market, Good Food for Oxford Schools and Strawberry Plains Audubon Center in Holly Springs.

E-mail green@olemiss.edu if you would like more information about volunteer opportunities.
UM Employees and Staff
UM employees are welcome to volunteer at any of the office's volunteer events. Employees are also welcome to include family members. (If planning to volunteer with a young child, it is advised to contact the Office of Sustainability in advance to make sure the opportunity is age appropriate.) Ongoing volunteer events are Green Grove Gameday Recycling gameday education and sorting (fall semester) and compost sifting (fall and spring semesters). Each November, the office hosts "Sorts-Giving," a Green Grove gameday recycling sorting event that is specifically for faculty and staff to help give students a break as finals week approaches. However, employees are welcome to volunteer at any point in the semester.
Additionally, there are often opportunities to help with the UM Garden, to implement UM Green Fund projects, and to assist with removing invasive plants from Woodlawn-Davis Nature Center.
Off campus, there are regular opportunities through Keep Oxford Lafayette County Beautiful, the Oxford Community Market and Good Food for Oxford Schools.
Be sure to subscribe to the Red, Blue & Green newsletter to stay updated on these opportunities.
Request a presentation
Office of Sustainability staff and student interns are available to give presentations to your student group on a variety of topics including an introduction to sustainability at UM, recycling and gameday recycling, food sustainability, change agency, corporate social responsibility, the UM Green Fund and more. E-mail green@olemiss.edu to request a presentation for your registered student organization, classes, departments, offices and other groups to learn how your group can practice sustainability efforts. 
Co-curricular & Project Experiences for Students
The Office of Sustainability regularly partners with classes and students across disciplines, from nutrition and hospitality management to engineering students and journalism.
Examples include engineering students who worked with Dr. Cris Surbeck to conduct the university's first water footprint in 2017 and environmental engineering students who conducted an environmental impact of the UM Compost Program. Additionally, journalism students often seek photojournalism opportunities at events hosted by the Office of Sustainability like the Food Day Festival, Transportation Fair, and Green Week Sustainability Fair.
Students have also submitted proposals to the UM Green Fund as part of class projects.
Other opportunities include internships and committee membership. Students can apply to be an intern in the Green Student Intern Program which includes working on sustainability projects ranging from waste reduction to active transportation. Students can also become a member of the ASB Sustainability Committee which is led by the ASB Director of Sustainability and the members of the ASB Sustainability Board. This group is dedicated to making our campus as sustainable and environmentally friendly as possible. Members do not have to be a part of ASB. For more information on these opportunities, click here.
Staying Up to Date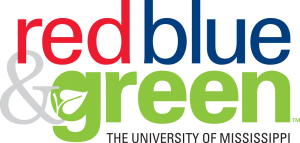 Students can subscribe to the Office of Sustainability newsletter.  Stay up-to-date with the office's programs and initiatives by following one of many social media platforms like Instagram and Facebook.
Students can also share the Ole Miss Recycling Guide with others so that more people are educated on how to recycle on campus and in Oxford.
Request a Recycling Bin
The University of Mississippi uses several types of recycling bins based on space needs and funding availability. Remember that recycling programs often perform best if they have a champion, so check out the Ole Miss Recycling Guide to brush up on recycling best practices and routinely provide feedback to your coworkers.

Slim Jim by Rubbermaid 
 These bins are available to university faculty and staff free of charge. Lids may not be included, but we recommend that you purchase them separately to reduce contamination. You will need two bins: one for plastic/aluminum and one for cardboard/mixed paper. Call Facilities Management at 915-7003 to request Slim Jim bins.
Desk recycling bins
Plastic, blue recycling bins that fit under your desk are available for purchase through the UM Storeroom. Small cardboard bins that will fit under your desk are also available free of charge. Call Facilities Management at 915-7003 to request desk recycling bins.
Max-R bins
 The first installation of Max-R bins on campus was grant-funded; however, individual university departments interested in getting these bins can purchase them. There are multiple size options and configurations available. E-mail green@olemiss.edu for assistance and to receive a spec sheet.
Recycling Signage
The Office of Sustainability has worked with University Communications to develop informative recycling signage to apply on and above recycling bins in academic buildings and residence halls.  The signage can be printed and directly applied on small recycling bins, and fathead signage can be ordered to apply on and above large Max-R bins. Click here to help reduce contamination and improve the UM recycling program. We greatly appreciate your contribution!
To return to the Ole Miss Recycling Guide homepage, click here.