Green Grove Gameday Recycling Program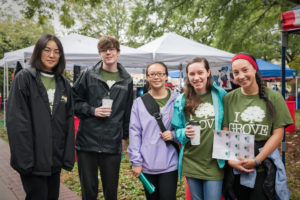 The Green Grove Program at the University of Mississippi is a popular, volunteer-driven program that aims to incorporate recycling into the game day experience. This is done by engaging and educating tailgaters in the Grove and Circle. Through the program, the university also aims to decrease the amount of waste that ends up in landfills as a result of tailgating.
Green Grove volunteers help work toward these goals by speaking with fans and passing out recycling bags in the Grove on select gamedays. They also help sort the collected recycling bags from the tailgating areas at the Oxford Recycling Center each Monday and Tuesday following all home football games. Additionally, Green Grove participates in the Game Day Recycling Challenge, a national collegiate competition that measures the recycling efforts and diversion rates from tailgating areas and stadiums around the country.
How to Get Involved
There are two different volunteer opportunities for students in the Green Grove Program during the fall 2021 semester:
1.) educating tailgaters on select football home game Saturdays and
2.) sorting recycling the following Monday and/or Tuesday after all home games at the Oxford Recycling Center. Additional volunteer opportunities may be available throughout the semester. All volunteer sign up opportunities will be posted no later than mid-September 2021.
 Click the following links for more information:
Contact Information
For further information on the program or to sign up your group/student organization to volunteer, contact us at green@olemiss.edu.
To learn more about recycling, check out the Ole Miss Recycling Guide here.