2018 Green Week Exhibit — Call for Proposals
Proposals are currently being accepted for the 2018 Green Week Exhibit. Each spring semester, as a part of our Greek Week of events, the Office of Sustainability creates an educational exhibit that is displayed on campus to encourage dialogue and promote Green Week programming. Students and members of the UM community are invited to share their ideas for an opportunity to be sponsored to create next year's exhibit.
To submit an exhibit idea, click here. Applications are due by January 31, 2018.
 Past Exhibits
2017 Exhibit – A Littered Landscape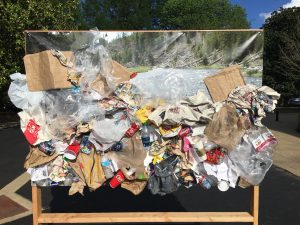 The 2017 exhibit was proposed and created by UM alumna Anna Brigrance. While she was still in school studying art and English, she conceived the idea of "A Littered Landscape." She displayed an original photo of a natural landscape and gradually covered it with trash collected from campus throughout the week. After proposing the concept, her idea was then sponsored by the Office, featured on the Green Week website and integrated into the scheduled week of events.
2016 Exhibit – Food For Thought
The exhibit "Food for Thought," illustrated the environmental effects of food waste and ways individuals can mitigate those effects. The exhibit tank was separated into three sections, each representing a tier of the Food Recovery Hierarchy, which indicates the best ways to prevent food waste. The sections in the exhibit showcased the effects of landfilling food, composting food and source reduction, or reducing the volume of surplus food that is thrown away
2015 Exhibit – Trash Tank
For Green Week 2015, the Center for Manufacturing Excellence helped construct the "Trash Tank Exhibit" illustrating the amount of litter disposed of improperly on the University of Mississippi campus. Because Landscape Services employs individuals to pick up litter, students don't always realize that this is a problem. Landscape Services staff filled the tank through the week with real campus litter, and volunteers sorted the recyclables from waste at the end of the week.
2014 Exhibit – Consumption Cube
The "Consumption Cube" was a 9 foot by 9 foot cube covered in trash and designed to raise awareness of how our habits and consumption create a large amount of waste. The cube informed students with a visual of the amount of waste created on the campus, state, nation and planet. Messaging on the cube offered wide range of sustainable solutions to reduce the amount of waste we generate from recycling on campus and in the residence halls, curb side recycling with the City of Oxford and even submitting project proposals to the Green Fund. 
SaveSave
SaveSaveSaveSave