Meet the Office of Sustainability
Ian Banner, Director
In 2005, Ian was appointed Director of Facilities Planning and retains the position of University Architect, and Director of Sustainability. He holds a B.A. in Architecture from Plymouth University, a Masters in Philosophy from the University of Cambridge, and is a member of the American Institute of Architects. Ian was born in England and came to the United States in 1984.  He has professional and teaching experience having been in private practice with Shafer/Banner Architects from 1987 to 2002 and with the School of Architecture at Mississippi State University from 1987 to 1994.  He received tenure and the position of Associate Professor in 1994.
Ian's areas of architectural expertise are in energy efficient design and construction, daylighting, passive systems such as thermal buoyancy "stack-effect" ventilation, and environmental impact of building materials selection.  He has written on architecture and the environment, indigenous houses in the Appalachians, natural lighting in overcast and clear sky regions, and humidity and ventilation of medieval buildings in northern Europe.
Kendall McDonald, Associate Director
Kendall joined the University of Mississippi in 2015 and was appointed Associate Director of the Office of Sustainability in 2020. She has a Bachelor of Arts in Public Policy and graduate studies in social work. Her interests are in the human dynamics that comprise organizations, and how to design resilient human systems on a changing planet. In 2015, Kendall was recognized by the Udall Foundation for environmental leadership.
She is a homegrown Mississippi native, with roots in Oxford and the Mississippi Gulf Coast. Beyond her work, Kendall spends most of her time fixing up her 1840s antebellum home place in Holly Springs, Mississippi with her husband, making pottery and cleaning up after her two dogs, Ophelia and Parsons.
Kathryn Kidd, Project Manager
In the Summer of 2021, Kathryn Kidd joined the UM Office of Sustainability as the Project Manager. She holds an M.S. in Natural Resources with an emphasis in the Human Dimensions of Natural Resources and a B.A. in Environmental Studies from the University of Missouri-Columbia. Before her role here, she had four years of professional experience working at the University of Missouri Sustainability Office. She also was the first teaching assistant for the development of an introductory sustainability course in its first and second offering at the University of Missouri. Her master's thesis dissertation researched sustainable water resource management practices on the Yellowstone River in Montana. Kathryn is very passionate about sustainability education and outreach in higher education. In her free time, Kathryn enjoys walking the trails with her dog, fishing, and hanging out at local farmers' markets.
Fall 2021 Green Student Interns
Allegra Latimer, Compost Collective Intern
Allegra Latimer is a Biology and French major with a minor in Chemistry from Brandon, MS. She has worked with the office in previous semesters focusing on food waste reduction and diversion and is now working on the expansion of the current UM Compost program. Having the opportunity to work closely with varying campus/community organizations, students, and faculty/staff to promote sustainability conversations has grown her knowledge of sustainability efforts on campus as well as those in the larger community. Over the years, she has developed an understanding and passion for sustainability as something that can be incorporated into everyday practices. She believes in engaging in ongoing sustainability conversations and efforts around the community in order to help contribute to larger sustainability goals. Allegra is also a member of the Sally McDonnell Barksdale Honors College and is a pre-med student interested in incorporating sustainability into topics of food insecurity and overall state health.
Matt Knerr, Compost Collective Intern
Matt is a junior Stamps Scholar majoring in Biochemistry and General Studies at Ole Miss. During his freshman year, he declared the Environmental Studies Minor and joined the tree-planting organization Hill Country Roots, which served as his primary introduction to the Office of Sustainability. Matt now holds leadership positions in multiple environmental groups on campus and is a Compost Collective Intern for the Office. He is interested in harnessing biocentric chemical processes to reduce atmospheric carbon. Outside of school, Matt conducts genetics research and enjoys growing plants and mushrooms. 
Caroline Leonard, Sustainability Data Intern
Caroline is a sophomore from Ocean Springs, MS double majoring in International Studies and Chemical Engineering and minoring in Arabic. Growing up on the Mississippi Gulf Coast, she has seen directly how important sustainability is to maintain the environment, and how pollution can directly affect waterways along the coast and throughout the state. She has volunteered with Audubon Society both on the coast and in Holly Springs and is excited to keep working with sustainability on the University of Mississippi campus and in the Oxford Community. After Graduating, Caroline hopes to work with renewable energy and sustainability internationally. She is also involved in the Andrew Goodman Foundation which works to promote voter registration and advocacy on campus, the UM Beekeepers Club, and the Honors College. Outside of school, she enjoys reading and baking.
Jenna Santacroce, Green Grove Intern
Jenna is a senior at the University of Mississippi studying Public Policy Leadership and Environmental Studies. Jenna has a keen interest in environmentalism and has worked on various conservation efforts during her years as a college student – including an ocean advocacy internship in her home state of New Jersey, a Plastic Pollution and Coastal Conservation volunteer program in Thailand, and student research for the UM National Sea Grant Law Center through the National Oceanic and Atmospheric Administration (NOAA). Jenna also has experience working in the political space as an intern at a multi-disciplinary federal relations and advisory firm in Washington DC, where she learned that the best approach to protecting the environment was through preventative, long-term legislative solutions.
Jenna plans on earning her master's degree in Coastal and Ocean Policy from the University of North Carolina, Wilmington, which she hopes will enable her to make a career out of conservation. Outside of school and her environmental work, Jenna enjoys visiting the beach, spending time with her family, and running in the park.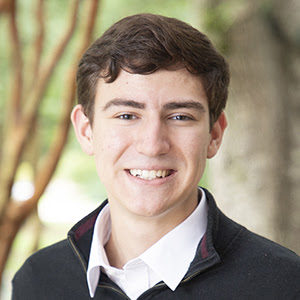 Logan Baggett, Green Grove Intern
Logan is a Sophomore in the Croft Institute of International Studies at Ole Miss. He is double majoring in Spanish and International Studies with a minor in Portuguese. In high school, he headed a voter registration drive and worked to increase bipartisan political literacy. As a result of this background, he is largely interested in policy approaches to sustainability. Logan is a Mississippi native, originally born on the Mississippi Gulf Coast but from Petal, Mississippi, a suburb of Hattiesburg. Outside of work and school, Logan enjoys reading literature and writing.