Additional Recyclables Collected On & Off-Campus
Beyond the major categories of materials (paper/cardboard, aluminum, plastic, and e-waste) that are recyclable in standard bins and the local curbside program, there are a variety of other commonly used items that should be recycled. Below you will find information on the additional types of products that are recyclable in our area at specific locations. Check out this quick chart, scroll down, or click a material on the list for more information.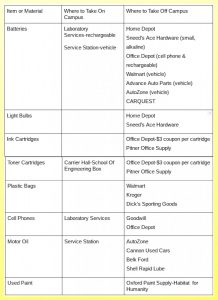 Batteries – Rechargeable and Automobile
Cellphones and Cellphone Batteries
Toner Cartridges and Ink Cartridges
Glass
Monthly glass recycling curbside pick ups are available to households in Oxford city limits through Door 2 Door Recycling, an independently owned company based in central Mississippi. The cost is $12 per month. Sign up here: https://www.door2doorrecycling.com/
Reduce & reuse  – Consider reducing the amount of glass you are purchasing by opting for an item in a recyclable container like aluminum, if available. Or, reuse your glass items.

Plastic Shopping Bags
Every year, 8 million tons of plastic end up in our oceans. That's equivalent to five grocery bags filled with plastic for every foot of coastline in the world. Plastic bags are among the most common sources of marine debris, where they can be mistaken as food by birds and fish. Because plastic bags don't biodegrade, it will take hundreds of years for them to decompose in a landfill. To divert the accumulation of plastic bags in our oceans and waterways, collect plastic bags and use one of the drop-off locations near you.
Plastic shopping bags and plastic film (Ziploc® Bags, bread bags, produce bags) can be recycled at several locations in town.
Walmart – Bin located near shopping carts at front entrance of store

Kroger – Bin located near shopping carts at front entrance of store

Dick's Sporting Goods – Bin located near cash registers at front entrance of store
Learn more about recycling plastic bags correctly here. 
Reuse – To reduce plastic waste, bring reusable bags to the grocery store. They'll hold much more than plastic, are easier to carry and you won't have to worry about them breaking from the weight of your items.
Reduce – Skip the produce bag. Many items, like bananas and oranges, contain peelings that you will remove anyway before eating. If you do need to use a bag, try reusable produce bags.

Batteries – Rechargeable and Automobile
Batteries are made from a number of different materials including acid, lead, nickel, lithium, cadmium, alkaline, etc. If batteries are not disposed of properly, the casing can disintegrate and the toxic chemicals inside will be absorbed into the surrounding environment. This can contaminate the soil and water, and some of the elements can accumulate in wildlife and in humans. The University of Mississippi's policy for proper battery disposal and recycling details the minimum requirements and procedures for the environmentally safe recycling of batteries.

Where to recycle batteries:
Rechargeable batteries
University of Mississippi Laboratory Services –

 662-915-5433

Office Depot

Home Depot
Used automobile batteries
UM Service Station – Located near Facilities Management Shops building at 700 Hathorn Drive

Home Depot

Walmart

Advance Auto Parts

AutoZone – Limit 5

CARQUEST
Non-recyclable batteries
Household batteries and single-use batteries (AA, AAA, D, C and so on) are accepted at ACE Hardware to be disposed of properly

because these cannot be recycled.
Reuse – Opt for rechargeable batteries. (Can be purchased at Marshall's in Oxford.)
Cell Phones and Cell Phone Batteries
Recycling or reusing cell phones not only conserves these valuable materials, but it also prevents air and water pollution and reduces greenhouse gas emissions that occur from manufacturing, extracting, and processing new materials. Many cell phones contain rechargeable, lithium-ion batteries that can be recycled, but only at specified locations. When disposing of batteries, they must be treated as household hazardous waste.  
Where to recycle cell phones and cell phone batteries:
University of Mississippi Procurement Services – 

662-915-7448 – Collection at the receiving dock. It doesn't matter if the phone is shattered, cracked, or broken. 
Office Depot – Cell phones and cell phone batteries
Goodwill –  Works with partners to collect and recycle phones
You can also trade in or sell used phones.
Used Motor Oil
Never dump your used motor oil down the drain — the used oil from one oil container can contaminate one million gallons of fresh water. By recycling your used oil you not only help keep our water supply clean, but you help reduce American dependence on foreign oil. It takes 42 gallons of crude oil, but only one gallon of used oil, to produce 2.5 quarts of new motor oil.
Where to recycle used motor oil:
UM Service Station – Located near Facilities Management Shops building at 700 Hathorn Road

AutoZone*

Belk Ford*

Cannon Motor*

Shell Rapid Lube*
*Each location will accept up to 5 gallons each visit.
Light Bulbs
Light bulbs should not be directly thrown away in regular trash bins or recycling bins because in both cases it is hazardous to the workers handling the items. Light bulbs contain mercury and argon gas which must be handled carefully. 
Where to recycle light bulbs:
Home Depot – Collection bin  is located inside store. Home Depot collects all types of bulbs including CFLs and holiday lights. Cracked bulbs are still accepted, but broken bulbs are not accepted for the safety of those handling the bulbs. There is no limit to how many bulbs may be dropped off at one time.

Sneed's ACE Hardware
Tires
Tire recycling, or rubber recycling, is the process of recycling waste tires that are no longer suitable for use on vehicles due to wear or irreparable damage. The process for recycling tires is very complex in comparison to other items, because of all of the elements that have to be effectively broken down. These elements can also give off very dangerous types of gas if they are heated, so the raw materials are often used to create new products other than tires which is less expensive and causes less air pollution. The rubber, steel, and other raw materials resulting from disassembling the tires are removed, melted down, and reshaped or used for the creation of various new products. For example, this rubber can be used for athletic turf fields, rubber bands and belts for engines, asphalt, playground mulch, and walkways or running tracks. Reusing tires is another alternative. Scrap tires can be used as bumpers for boats, go carts, and many other recreational vehicles. These are simple ways that an individual or a family can put tires to use and keep them out of landfills or in piles at scrap tire yards. Over 242 million scrap tires are generated each year in the United States. To decrease the number of tires thrown into landfills, reach out to the following locations for scrap tire recycling and collection.
Gateway Tire and Service Station –  Accepts and recycles used tires for $2 per tire

Walmart Auto Care Center

Ink and Toner Cartridges
Printer cartridges are made up of a complex combination of plastics, metals, foam, ink and toner. Throwing them into landfill represents a waste of resources and contributes to the growing problem of electronic waste. By recycling your cartridges you are helping to reduce this waste.
Ole Miss School of Engineering – Carrier Hall

Office Depot will give a $2 coupon per ink cartridge or toner cartridge turned in at store

Pitner Office Supply
Household Hazardous Waste
The EPA considers some leftover household products that can catch fire, react, or explode under certain circumstances, or that are corrosive or toxic as household hazardous waste. Common household items such as paint, pesticides and cleaners contain harmful ingredients and must be disposed of properly—not in your trashcan.
How to handle household hazardous waste:
The City of Oxford hosts a Household Hazardous Waste Day annually in April for residents to drop off these items.

Good quality paint can be donated to Habitat for Humanity at Oxford Paint Supply on North Lamar.
For questions related to household hazardous waste, contact the City of Oxford Environmental Waste Department at 662-232-2359.
Reduce – Learn more about natural alternatives to common household hazardous waste.
Clothing
Instead of throwing away your unwanted clothing, there are several options for donating and selling the items, both in our area and online:
Locally & regionally
Goodwill – Receives gently used clothing donations

Salvation Army – Receives gently used clothing donations

Dress for Success – Located in Jackson, MS


Plato's Closet – Buys and sells new and gently used clothing. Located in Southaven, Mississippi, and Memphis, Tennessee.
Online
Consign and re-sell online using a platform like Facebook Marketplace. Companies like Madewell, CUYANA and Project Repat also have services for recycling clothing.
Books
Donating your books is the best option. However, they can be recycled. The cover and the paper are made of different materials which require separation before recycling them. The hardback part of a hardback book is often bulky and different from the pages of a book, so many recyclers cannot process them while both components are still connected. The spine and cover must be removed first, which can be a time-consuming process with a large number of books. The glue used in a book's binding can also be a difficulty for recycling companies. However, in Oxford and on campus, if you remove the hardcover from the bound pages, then you can put the hardcover in with cardboard and the pages with the paper.
Where to donate:
The Lafayette County and Oxford Public Library – Takes all book donations except textbooks and encyclopedias at the circulation desk. For large donations, call ahead of time so they can help you unload in the back of the building.  
Oxford has several Little Free Libraries located throughout town that operate on the "take a book, leave a book" system
Unwanted Medicine 
Research has shown that there are negative effects of flushing and throwing away old medicine. Pharmaceutical chemicals have been known to pollute water sources affecting aquatic wildlife and other species that are subsequently exposed to environmental pollutants. Accidental poisoning to animals and children has also been an observed consequence of throwing away medicines in the trash. To properly dispose of unwanted medicine, you can drop it off at the following locations:
Oxford Police Department- Pills only; no liquid or needles. Dropbox in lobby. For more information call 662-232-2400.
 G & M Pharmacy
Walgreens- Dropbox at Pharmacy

The University Police Department also hosts a Drug Take Back annually where they collect unwanted prescription drugs and other hazardous waste. For more information call 662-489-2415.
To return to the Ole Miss Recycling Guide homepage, click here.