Green Office Guide 
A green office is a workplace that is considerate of its effects on the environment and strives to make sustainable decisions. Creating and maintaining a green office relies on the purchasing of sustainable products, reducing energy, and minimizing waste effectively. Choose from the topics below to learn how you can improve the wellness of your workspace and environment. Check out the Low Waste Event Guide for tips on how to host a sustainable event on campus and off. 
Purchasing Sustainable Products
Reducing Energy
Waste Reduction
Low Waste Event Guide
Other resources:
How to Print Double sided for PC
How to Print Double sided for Mac
Recycling Signage for Recycling Bins in Academic & Residence Halls
Purchasing Sustainable Products
What and how much you purchase at your office plays a large role in the amount of waste and environmental impact you are collectively producing. When you are purchasing for your office, think of the realistic amount you need, what the product is composed of, and how you can minimize the waste associated with the product. *The city of Oxford does not have a composting facility, so purchasing compostable items is not recommended over recyclables; those items will ultimately end up in the landfill. Please see the Recycling Guide to learn more about what can or cannot be recycled in Oxford.

Paper
Recycled paper reduces the demand for wood, conserves resources, helps preserve forests, generates less pollution during the manufacturing process, and reduces solid waste.

University of Mississippi office paper must be purchased through Jackson Paper/Newell Paper. The product number for recycled copy paper is 64521551909 and the price is $39.00; for more information, visit the

 UM Procurement website

. 

When purchasing other paper products, choose products with a high percentag

e of post-consumer recycled content, that are not processed with chlorine, and that are harvested responsibly/certified by environmentally conscious groups (FSC, Green Seal, and others).
Equipment
The University of Mississippi adopted an

ENERGY STAR Procurement Policy

that

encourages the purchasing of products that are ENERGY STAR certified.

When purchasing equipment, choose ENERGY STAR rated equipment and devices that perform multiple tasks, instead of separate machines.  
Kitchen/break room
Use reusable cutlery, plates, and glasses for the kitchen or break room. 

Choose green-certified cleaning products that are biodegradable and non-toxic (Safer Choice, Green Seal Label, Seventh Generation, UL ECOLOGO, U.S. EPA Safer Choice, and others).

Avoid purchasing

plastic, styrofoam, and individually wrapped products.  If you must purchase plastic materials, try to find plastic that is recyclable in Oxford (plastics #1 and #2).
Reducing Energy
There are many ways to reduce energy waste and minimize your office's carbon footprint. When you save energy, you are saving money for your office and decreasing power plant emissions. 
Replace incandescent light bulbs with energy-efficient compact fluorescent light bulbs (LEDs).

Change computer and monitor settings to energy-savings mode. It is

recommended to set your monitor to turn off after 5 to 20 minutes of inactivity, and to set computers to enter sleep mode after 15 to 60 minutes of inactivity, however, the lower the setting, the more energy you save.

*Your monitor may enter the energy-savings sleep mode when it is inactive, but the computer itself may not, so make sure to set both. If you need help setting this up, contact us at green@olemiss.edu or the IT help desk at helpdesk@olemiss.edu

Turn off the lights if no one is in the room.

Replace older office equipment with ENERGY STAR rated products.

Shut off all office equipment at night and when the office is not in use.

Use smart power strips and surge protectors. Make sure to turn off power strips when they are not being used.

If you are able, take the stairs instead of the elevator.
Make use of natural lighting.
If you have access to your thermostat, turn it off when there is no one in the office at the end of the day.
Waste Reduction
Waste is a major issue within our society. The environmental benefits of reducing waste are endless, but some of the most important aspects include reducing the need for more landfills, minimizing natural resource consumption, and reducing environmental pollutants/carbon emissions. Make sure to become educated on what you can recycle and reuse, and inform others at your office about ways they can reduce waste. 

Recycle materials permitted by the city and avoid contamination. View the Office of Sustainability's

Recycling Guide

to learn what can or can not be recycled on campus. 

Collect and recycle other office materials such as light bulbs, batteries, books, electronics, ink & toner cartridges, and plastic bags by taking these materials to certain locations on campus and/or to other city facilities that will recycle them. Ink and toner cartridges can be recycled on campus at the

Ole Miss School of Engineering -Carrier Hall.

See

Additional Recyclables Collected On & Off-Campus

for more information on where you can recycle additional office waste.  

Request recycling bins through UM Facilities Management at

fm@olemiss.edu

. 

Click here to print and/or order informative signage that clearly displays what to recycle in your recycling bins.

Avoid using/purchasing disposable items like styrofoam plates, plastic cups, and propose reusable alternatives whenever possible.

Print double-sided and format your paper to fit on fewer pages by reducing your page margins, minimizing images, and placing multiple pages on one page. Click here to learn How to Print Double sided for PC & How to Print Double sided for Mac.

Use washable dish towels instead of paper towels. 

Create an office scrap paper bin. 

Share documents electronically whenever possible. 
Low Waste Event Guide
You can help minimize the substantial amount of waste that comes from hosting events by planning carefully beforehand, choosing sustainable options when purchasing for the event, and disposing of items properly. *The city of Oxford does not have a composting facility, so purchasing compostable items is not recommended over recyclables; those items will ultimately end up in the landfill unless you have made prior arrangements with the UM Compost Program through the Office of Sustainability at green@olemiss.edu.  Please see the Recycling Guide to learn more about what can or cannot be recycled in Oxford. 
Locally grown organic food in appropriate quantities 
Purchasing local food supports your local economy and is a healthier option when compared to others. 

Go with the vegetarian menu or serve sustainably raised natural meats. 

Make sure to not overspend on the amount of food you are purchasing; know how many people you will be providing for to reduce unconsumed waste. 

Local food markets include Chicory Market, Oxford Community Market, and Mid-Town Farmers' Market. 
Washable, recyclable, or compostable serving wear
Use compostable cutlery by coordinating through the UM Compost Program at green@olemiss.edu (photos below).
When ordering catering, let the restaurant know that you don't need plates, cutlery, etc.  Use reusable items instead.

Avoid single-use plastics, styrofoam, and individually wrapped products. 

If using plastic can not be avoided, try to purchase plastics that can be recycled in Oxford (plastics #1 and #2). 

Use pitchers and dispensers instead of bottled or individually packaged items.
Reusable or recyclable decor and giveaways
Search for decorations and giveaways that are environmentally friendly, can be reused or recycled after use, and do not have excessive packaging.

 Plants are a great, reusable option for decor, and giveaways such as water bottles, thermoses, and reusable dishware are always celebrated gifts.

Send out electronic invitations instead of paper.
Recycling/waste bins and signage 
Be sure to provide clearly designated recycling bins and waste bins.

If the event is outdoors, you can coordinate recycling with Landscape Services at bmblack@olemiss.edu by placing a work order. If the event is indoors, you can contact Facilities Management for assistance at fm@olemiss.edu. You can also take recyclables to the City of Oxford's drop off location on Molly Bar Road. 
Leftovers
Donate any unopened food items to the UM Food Bank or Oxford Pantry. Make prior arrangements by contacting the facility beforehand at olemissfoodbank@gmail.com.

Donate floral arrangements, and other items not used.
Below are photos from the National Geographic GeoBee event facilitated by the Office of Sustainability at Ole Miss in the Spring of 2019. This event is a great example of a zero-waste event with no single-use plastics, compostable cutlery, local food, and recycling of items including pizza boxes.
If you have questions that are not addressed in this guide, contact us at green@olemiss.edu. 
About the Author: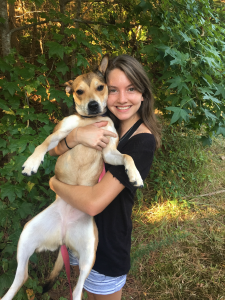 Rachel Anderson is a senior from Mooreville, MS. She is majoring in biology and minoring in environmental studies with the hopes to do conservation research in graduate school. She decided to intern for the Office of Sustainability because she is deeply concerned about the future state of our environment and human health. Rachel wrote the Green Office and Low Waste Event Guides in the fall semester of 2019 because she believes, with sustainable practices, we can reduce the detrimental effects we have on our environment. In her free time, she enjoys bird watching, walking her dog, cooking, reading, and camping.