Earth Month Event Calendar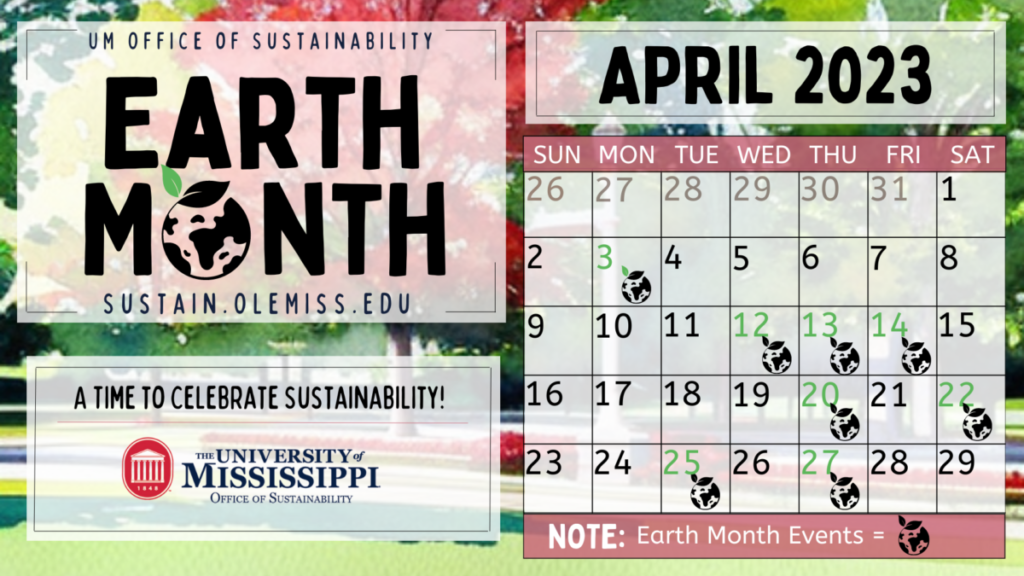 Week 1: April 2-8
Earth Month Raffle Challenge Kick-Off
All Month – Virtual
The Office of Sustainability is hosting an Earth Month Raffle Challenge for the entire month of April to encourage and reward sustainable actions throughout the month. Attend Earth Month events, complete sustainability challenges, and receive entries into our Earth Month Raffle Challenge.
Monday, May 1 our office will hold a raffle drawing and the winner of the raffle will receive: a 60-qt ECOCOOL Igloo Roller Cooler, Cotopaxi Fanny Pack, a 40 oz. Stanley Tumber, and an Earth Month Swag Bag!
Movie Night: Earth Days
Monday, April 3, 5:00-7:00 pm @ The Grove Stage
To kick off Earth Month, The Office of Sustainability and the Environmental Studies Minor are hosting a movie night with a screening of Earth Days: The Seeds of a Revolution. Join us to learn more about the history of Earth Day, enjoy some refreshments, and build community!
"Earth Days looks at the road to April 22, 1970 (the first Earth Day), to the dawn and development of the modern environmental movement through the extraordinary stories of the era's pioneers — among them Former Secretary of the Interior Steward Udall, biologist/Population Bomb author Paul Ehrlich, Whole Earth Catalog founder Steward Brand, Apollo Nine astronaut Rusty Schweickart, and renewable energy pioneer Hunter Lovins. Earth Days is a meditation on man's complex relationship with nature and an engaging history of the revolutionary achievements and missed opportunities of groundbreaking eco-activism."
Week 2: April 9-15
Outdoor Yoga
Wednesday, April 12, 5:30-6:30 pm @ the South Campus Recreational Center Field
Enjoy some beginner-friendly outdoor yoga at the South Campus Recreational Center Wednesday, April 12 at 5:30 pm. All equipment will be supplied, so just bring your water bottle and a friend. This hour-long yoga class will be a great way to relax and learn about the importance of environmental and physical wellness.
Earth Month Egg Bowl: Glass Recycling Drive vs. MS State
Thursday, April 13, 2:00-6:00 pm @ Danver Parking Lot (Jackson Avenue Center Parking Lot)
The Office of Sustainability is partnering with Door2Door Recycling to host a glass recycling drive. Door2Door Recycling accepts all brown, green, or clear glass. please sort your glass by color before donating and drop off your donation anytime between 2:00 and 6:00 pm, Thursday, April 13.
We will be competing against Mississippi State University (MSU) to see who can divert the most glass from the landfill. The winner will be announced on April 31st via our @OleMissGreen Instagram/Facebook account! Start collecting your glass and Hotty Toddy!
BYOPlanter and Paint
Friday, April 14, 12:00-2:00 pm @ the Residential College South Cafeteria
For this year's upcycle event, the Office of Sustainability and the Lafayette County Master Gardeners are partnering to host a Bring Your Own Planter and Paint! Bring something you can plant in (a pot, jar, cup, or an old shoe; anything that can be easily repurposed) and we'll help you paint and repurpose it into a usable planter! While you paint, the Lafayette County Master Gardeners will provide education on proper potting skills and the wellness benefits of gardening. Once you're finished decorating, the Office of Sustainability will provide soil and a new plant for your upcycled planter!
Week 3: April 16-22
Earth Month Jeopardy
All Week, 10:00-2:00 pm @ The Student Union Plaza
The Environmental Coalition and Aqua Culture are collaborating to host an interactive sustainable Jeopardy exhibit at The Student Union Plaza 10:00-2:00 pm Monday, Tuesday, Wednesday, and Friday of April 17-21; the Office of Sustainability will host the exhibit at the OXCM Campus Farmers Market on Thursday, April 20. Pass through, play some Jeopardy, win prizes, and learn more about sustainability at UM.
OXCM Campus Farmers Market
Thursday, April 20, 10:00-2:00 pm @ Galtney-Lott Plaza (Business Row)
The Oxford Community Market is hosting a campus Farmers Market! This market is an opportunity to promote local, sustainable food to students, faculty, and staff. As a part of the Office of Sustainability's Earth Month celebration, this event serves the purpose of bringing together the Oxford community to promote awareness about food choices, the food industry, and why it matters.
With over 20 different vendors, participants can expect to find a variety of seasonal produce, homemade baked goods, and personal care products; all while winning prizes, learning about local foodways, AND petting goats!
Earth Day: Ecology Day of Service
Saturday, April 22, 10:00-12:00 pm @ the South Campus Rail Trail
The Environmental Studies Minor is hosting an invasive species clean-up in celebration of Earth Day. Grab some friends, a water bottle, and some hiking attire, and join us to rid the South Campus Rail Trail of invasive species while learning about the Environmental Studies Minor and the importance of trail maintenance.
Week 4: April 23-29
OXCM Low-Carbon Shopping Night
Tuesday, April 25, 2:00-6:00 pm @ the Old Armory Pavillion
At this Low-Carbon Shopping Night, the Office of Sustainability will provide recommended shopping lists with information about local vs. factory farming carbon emissions and the impacts you make when buying local. Come shop at the Oxford Community Market with us! Don't have a car? We will have volunteers staged at the bus stop ready to help you find your way. Come shop, learn, and enjoy the community!
Arbor Day
Thursday, April 27, 12:00-1:00 pm @ The Circle Drive
The UM Landscape Services is hosting a Tree-Planting event in celebration of Arbor Day. They will be planting a pecan tree in the Grove near the Grove Stage. Come celebrate Arbor Day and learn from our leaders in Landscape Services about what it takes to keep this campus green!
Since 2013 Landscape Services has sponsored our campus's annual Arbor Day event in accordance with the National Arbor Day Foundation's Tree Campus Higher Education certification.